Conference
ANNUAL CONFERENCE 2021
Turning the Inside Out

Practical skills and resources to move your curriculum outdoors
We were delighted to see so many familiar faces at our 6th Annual Primary PE Conference of all Sutton and Croydon schools on Wednesday 19th May 2021 at High Ashurst Outdoor Education Centre.
As we all know, the outdoors is the safest environment to be in especially during the current pandemic so we ventured outside following Covid guidelines - and prepared for whatever the weather threw at us!
It did start off slightly gloomy and wet but everyone brought a good sense of humour, just delighted to be out !!!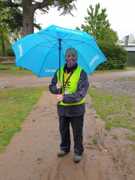 This year we focused on using creativity, ingenuity and resourcefulness to turn the open air into effective and adventurous teaching spaces.

All workshops were practical and by the time the first one started the rain had stopped. The aim always to increase knowledge and skills and to inspire teachers to use your outdoor space (whatever the size) more creatively through OAA themes.

The SOLD venue, staff and its environment provided us with an invigorating and inspiring space to think, try new things, have fresh ideas and connect with colleagues.

Our conferences are suitable for all teachers, head teachers, governors and those involved in the delivery of physical activity at your school.

Full details of this year's Conference are provided in the invite below (for your information).

This day is included in our membership package.

https://youtu.be/aawtAna2iVg