Meet Our Team
Sutton Schools Sport Partnership (SSSP) was formed in 2014 to enhance support for schools to deliver High Quality Physical Education, School Sport and Physical Activity.
Our team of 4 are all qualified and experienced teachers with a broad range of skills ranging from EYFS to KS5. We work closely with our 40 junior, primary and infant schools, our 7 special schools and 16 secondary schools in the London Borough of Sutton. This year 26 primary schools buy into the partnership receiving bespoke support in PE, Sport, PA, Health and Wellbeing.
Our team is based at Cheam Fields Junior Academy, employed by LEO Academy Trust and governed by a Steering Group comprising representatives from our local stakeholders.
Catherine Sinclair Smith: Co-Partnership Manager & Senior PE Consultant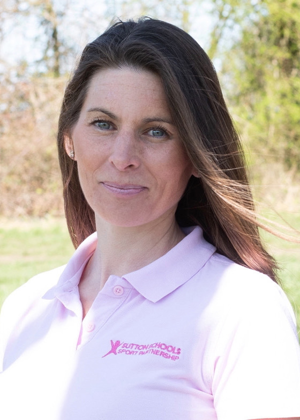 Catherine brings warmth and wit to the Partnership. Her aim is to empower teachers to feel as comfortable as she does to deliver high quality lessons with confidence and enthusiasm.
Catherine did a degree in Primary Teaching (QTS) and Sports Science (1994-1998), beginning her career as a Primary class teacher in Croydon in September 1998. Teaching children in a deprived area was a challenge she loved. She helped children reach their full potential academically as well as physically alongside educating her staff about the importance of high quality PE lessons and Physical Activity. She was even doing a 'daily mile' type activity all those years ago. She ran gymnastics, dance, athletics and rounders clubs for the pupils in her school as well as a fitness club for staff. She started football and netball leagues in the borough and sat on the Croydon schools netball committee encouraging as many schools as possible to participate in friendly games and the local leagues.
Catherine then joined the Senior Leadership team where she lead KS2. Seeking a new challenge, she continued her career at Elmhurst Boys School as Science Coordinator and latterly at St David's College as Head of Games. Throughout her career she has been the lead for PE, Gifted & Talented, PSHE, SENCO, Literacy and Science.
Catherine has always been passionate about PE. She competed nationally for Gymnastics, training 4 times a week. Coming from a family where sport and physical activity were highly regarded, was a blessing. As the eldest of 4 siblings, she felt they were all supported by their parents and each other to achieve various sporting goals. Her family are still very much involved in sport and she spends many an evening chauffeuring her children to different activities. Her parents also continue to remain fit and active in their 70's.
Catherine's favourite sports personality is Simone Biles. She has followed her rise to fame to become one of the world's most decorated gymnasts with 30 Olympic and World Championship medals and finds her truly inspiring.
Sarah Coffey: Co-Partnership Manager & PE Teaching Consultant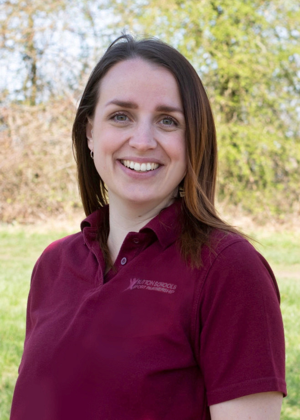 Sarah's ultimate aim is to ensure every child has access to high quality physical education. She believes that lifelong participation is achievable for everyone, you just have to find the right FIT.
Sarah joined the partnership in September 2020 bringing with her a broad and varied experience of fitness instructing, primary class teaching, leading Physical Education both within school and in her local area and promoting health and well-being across the curriculum.
Before embarking on a teaching career, Sarah worked as a fitness instructor at her local gym, gaining an NVQ in 'Instructing Exercise and Fitness'. During those 3 years she worked with people of all ages, abilities, including some with SEN or health complications. Being part of another person's journey to achieving their goals and educating them about health and fitness every day was such a buzz; it led her to resume her studies at university!
Sarah studied Sports Science at London Metropolitan University and went on to gain QTS with PE specialism. In 2013 she was one of 20 students accepted on a new, school-led, Initial Teacher Training program with Kingston University and it's partner training school in London. As well as developing her teaching ability both in and out of the classroom, she had the opportunity to work alongside many National Governing Bodies of sport, giving her a broad knowledge base from which to work.
Sarah not only established herself as an excellent classroom teacher achieving good academic success but also took on the role of PE Coordinator across her school, setting out to raise the profile of PE, PA and SS, implementing whole school initiatives, overseeing fixtures and events whilst increasing the number of physical and sporting opportunities for as many children as possible.
Most recently, she was a full time class teacher and PE lead for a large, diverse, four form entry primary school in Surrey. She was also involved in the organisation of borough wide events. This gives Sarah first hand experience and an exceptional understanding of the demands of this role, enabling her to provide personalised quality PE support.
Sarah has always been passionate about physical activity, understanding the key role that physical education plays in shaping children's views of themselves and their subsequent enjoyment and participation of physical activity. Stepping away from a full time class teacher role has allowed her to fully focus on the development of PE in primary schools; teaching children, sharing knowledge, enthusiasm and supporting staff.
Outside of work, Sarah can be found training at her local netball club, skipping in her garden or doing HIIT sessions in her living room! Primary school played a huge role in her enjoyment of physical activity and sport, leading her to play netball competitively through to adulthood.
Rachael Hayward: PE Teaching Consultant
Rachael brings a quiet determination to the team and an understanding that physical activity is for everyone. Everyone has talents and these talents should be inclusive and celebrated.
Qualifying as a Nursery Nurse in 1986 with her N.N.E.B under her belt, Rachael cared for babies and young children in a hospital Nursery, becoming the Nursery leader in a short space of time. She went on to manage three more nurseries and became Area Manager, alongside starting her own family. It was only when she started working in the school nursery when her daughter started school, that she realised she had potential to become a qualified teacher and embarked on a 'return to study.'
Alongside being a proud mum of two young children and continuing to work part-time at her school, Rachael gained her degree in Early Years (2003-2006) and PGCE part-time (2006-2008) from Roehampton University. The next chapter in her career was defined. She started her NQT year with a lively Yr 1, picked up the PE Coordinators role in her second year, stayed predominantly in KS1 until in 2012 she became the 'PE Teacher' for the whole school. In 2015 she gained her Level 5 Qualification in Primary School PE Specialism.
Rachael continues to teach in school for most of the week alongside working with the partnership for one day a week. For her, this is the best of both worlds and she feels honoured to be able to have her feet in both camps.
Rachael has a passion for anything active, is willing to give anything a go and definitely has a mean competitive streak (probably as a result of being the younger sister to an over-achieving brother!) Never being one to sit still for too long, Rachael was fortunate enough to be brought up in a family who valued and enjoyed activity encouraging her to try everything from ballet, tap dancing, gymnastics, trampolining to climbing and badminton, which she engaged in at club level. It was in secondary school PE lessons that Rachael discovered a passion for long distance running. This passion held her in good stead when in 2016, she ran the London Marathon and achieved a time she is very proud of. Despite hours of training and the aches and pains that followed, it was all worth it and she still continues to run daily (nowhere near a distance of 26 miles!)
Rachael also loves yoga and stretch classes (although flexibility is not her strength!), always has a book on the go, but ultimately loves spending time with her family and friends.
Tracey Milbourn: School Games Organiser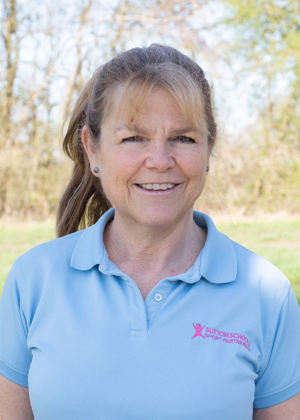 "I have a great belief that each and every young person needs the opportunity to discover and fall in love with physical activity. As an SGO I aspire to offer a wide variety of opportunities to as many students as possible to help embed lifelong activity patterns within a chosen passion, leading to healthy outcomes."
Tracey was appointed to the position of SGO in October 2015 and since then has worked hard to increase the competition offer for Sutton Schools, resulting in a wide variety of events now featured on the annual sporting calendar. The ultimate aim is to offer as many CYP of all ages and abilities the chance to experience the thrill of a Level 2 event.
Tracey has had over 30 years of involvement in sport and activity, experiencing it from many perspectives. She has taught PE for many years at both primary and secondary levels, worked as a coach in trampolining, tennis and fitness, volunteered as a Brown Owl, and is also a mum to two very sporty girls. Tracey quotes "I do feel that experiencing so many varied roles & life experiences within a sporting context has given me a broad and balanced viewpoint. My work as an SGO, involves working with a huge range of people & organisations from all backgrounds, and my past biography really helps me to understand and accommodate everyone's needs."
The past year has been particularly challenging due to Covid, but there have been some surprising outcomes from the virtual challenges and competitions on offer, where schools have shifted their competitive focus to intra-school events and achieving your Personal Best. This has meant that whole year groups have had the opportunity of representing their school, rather than the usual small elite group.
Tracey's personal sporting interests lie with playing team tennis for a local club, open water swimming (throughout the year!), walking and yoga. During the first lockdown Tracey reignited her love for off road cycling.