Mini Medics

Sutton SSP are now delivering Mini Medics first aid programme to children. Basic first aid is now a compulsory part of the primary health curriculum. The programme is aimed at 8 - 11 year olds, kept at a basic level, with no use of confusing terminologies. Mini Medics is educational, practical and instils the importance of identifying and helping someone who is injured or poorly.
What is Mini Medics?
How long is the Mini Medics programme?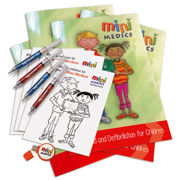 The programme can be adapted to meet the needs of your learners. Mini Medics can be delivered in a 1.5 or 2.5 hour session, aimed at 8 -11 year olds.
How many children can attend the course?
We recommend a maximum of 15 learners per training session, so the learners get the most out of each training session.
What will the children learn?
A range of subjects can be covered including:
What is First Aid?
First Aid kits
Recovery position
Choking
Resuscitation (CPR)
DR ABC
Wounds and bleeding
Asthma
Shock
Safety
Communication and contacting the emergency services