A 'MINI MEDICS' Marathon!
Back

150 children are now able to administer basic First Aid after a week of 'Mini Medic' training!
Year 5 pupils from St Elphege's enjoyed the training on Tuesday 8th and Thursday 10th February. All received 1.5 hour training on a basic understanding of First Aid, the contents of a First Aid Kit, CPR and the Recovery position.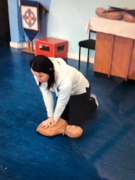 Comments about the training included:
'Very professional, child friendly and informative'
'Age appropriate content. Children were engaged in the learning. Important for children to have a basic understanding of first aid.'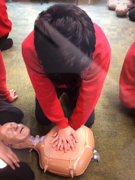 On Wednesday 9th it was the turn of Year 5 pupils from All Saints Benhilton who took part in the 2.5 hour training. This included extra elements such as bandaging and understanding how to treat someone who is in shock or with a burn. All children were fully engaged and left the sessions with another basic life skill.
Comments about the training included:
'Very interactive. Children were engaged and able to articulate what they had learnt as well as put it into practise.'